Linux/Windows/Open Systems Experts

Conetic's Open Systems offer you power, performance, portability, and flexibility. Decide on the platform for the application and the best configuration to meet your needs. Then install the applicaitons needed and enjoy the benefits of running on multiple platforms. In the event at a later time you want to run on another platform -- do not worry. The system you have come to enjoy will run the same on any other support platform.
C/BASE and C/BOOKS products are heavily based on an Open Systems architecture. This means your system will work on multiple hardware platforms and operating systems. Additionally, processing can be spread across platforms.
We maintain application and "data binary" compatibility whenever possible. Applications look and run the same regardless of hardware platforms. Applications can be coded on one system and moved to others. Just think of the possibilities! You could develop an application on a PC Windows-based system then move it to a Linux system! Why not move it from SUN Solaris, to AIX, to Apple OSX systems? It'll work!
Open Systems gives you the ability to choose the operating platforms that fit your budget and your processing needs. Conetic supports awide range of hardware platforms. Ranging from PC desktops, to large MAINFRAME servers. What about operating systems? How about these: Windows XP/Vista/7 - 2008 Server R2/Small Businesser, Red Hat Enterprise Linux 5 & 6 (32 & 64 bit), Ubuntu LTS 10.04 (32 & 64 bit),SOLARIS 2.X- 9, AIX, Apple OSX , and many others. In the unlikely event we do not support your platform of choice -- just let us know. Your opinion matters!
Open Systems. At Conetic, we've been providing open systems for a long time. We're the experts, and our expertise is reflected in your applications. Consider power, performance, portability and flexibility. Best of all, you're in control.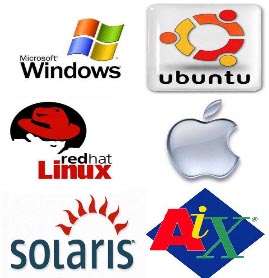 Aggressive "Per User" Licensing



Since 1990 Conetic has licensed products by a "concurrent number of user" policy. In simple terms we allow the organization to purchase licenses for only the required number of users, with disregard to the ability of the server. Think of our license policy to be similar to buying gasoline. You pay the same price for 10 gallons of gasoline, where it is run in a VW Bug, or a Corvette. While with Conetic software, you license 10 users and pay the same price if you install it on a PC server or a Super-mini!